Maximizing the Value of Cloud for Small-Medium Enterprises –
Key SME Characteristics (Business and IT)
Small-Medium Enterprises (SMEs) are classified by their size which includes employee head-count, assets, and financial turnover that is below certain limits. SMEs form the lifeblood of a majority of developing (and also developed) economies, enabling faster growth and economic stability. They are considered as key engines of growth and essential for efficient and competitive markets as well as key creators of jobs. SMEs play a crucial part in complementing large organizations in many ways. Rough estimates show that SMEs account for around 95% of global businesses and contribute approximately 40% of GDP.
Business Characteristics of the SME
Different countries adopt different terminologies and standardization in terms of the key characteristics of SMEs. This section discusses some of the key characteristics from the perspective of the geographical, business structure, and operating nature of firms, commencing with Table 1 which lists some comparisons of SMEs in certain geographies of the world. Some countries further classify SMEs by business domain – for example, manufacturing, trading organizations, etc.
How do Countries Categorize SMEs?
| | | |
| --- | --- | --- |
|   | Headcount | Turnover |
| US | ? 500 | ? $ 33.5 M |
| Europe | ? 250 | ? € 50 M |
| UK | ? 250 | ? £ 29.5 M |
| Japan | ? 20 & ? 300 | ? ¥ 300 M |
A difference between an SME and a Large Enterprise (LE) stems from how the business entity is held (amongst shareholders) and how it is managed. A key differentiator is the organization structure and how strategic decisions are made. While SMEs might have a flat hierarchy and an integrated set of business-enabling divisions, LEs are more likely to have a matrix organization and a set of business units (or lines of business) that focus on specific market segments or business domains. In fact, in an SME it is normal to have a thin management structure, while in large enterprises there could be multiple layers of management. Even business ownership patterns are vastly different between the two entities.
Another dimension of an SME is location and operational presence. While LEs might operate globally, with points of presence in multiple cities across the world, SMEs are usually restricted to limited geographical boundaries (though this is not a mandatory criterion) and within a particular country. The organizational structure of SMEs differs in that they are typically flatter than larger organizations. For instance, an SME involved in manufacturing might have one head office and a couple of manufacturing facilities, generally, within the same city or in nearby cities, while larger organizations could have regional, local, and corporate offices. It is common to find that in large organizations separate business-enabler functions like Finance, Administration, HR, Sales, Marketing, etc. exist, while in small organizations such functions are combined. Table 2 describes some basic contrasts between an SME and an LE. This data, along with the IT requirements discussion, was considered as we explored Cloud value maximization for the SME.
Some Business Characteristics and Contrasts
Business Characteristic

Small-Medium Enterprise (SME)

Large Enterprise (LE)

Holding Pattern

Usually privately held (even family owned at times)

Usually public limited company, with defined shareholding patterns

Location

Restricted to a limited geography (typically within a country)

Typically, a multi-national presence

Organization Structure

Flat and small

Large, hierarchical, and matrix

Business Units

Limited or no separate business units

Support functions, mostly integrated with each other

Multiple business units or LOBs according to business domains

Supported by individual support divisions or business enablers

Information Technology* Requirements

Dependence on IT is low and is treated as an enabler

Business might not suffer hugely even if IT is unavailable for an elongated time period

Dependence on IT is huge, which is viewed as a key business driver

Business impacts are huge in absence of IT
* Based on the business characteristics, requirements of Information Technology (IT) will vary between the SME and LE.
IT Requirements and Characteristics of the SME
Small and medium business plays a crucial role in nation building, contributing towards growth, GDP, and creating jobs. Having the added advantage of lower entry barriers, lesser business overheads, and relatively quicker decision paths, SMEs have the potential to be highly efficient, to grow faster, and to be competitive locally and globally. And in this journey, IT plays a catalytic role in enabling businesses to achieve their strategic objectives and realize financial gains. There are some differences in the way IT is envisioned, provisioned, and used by smaller organizations. Such requirements can and are becoming more commonly addressed with Cloud.
An SME might not have (or in many cases, might not even need) a dedicated IT organization. There will be an IT Manager, who will manage a small amount of IT infrastructure (in some cases, the IT Manager role might also be combined with another role), while in the LE it is more common to have a dedicated IT organization headed by a CIO and support staff.
It is common for SMEs to host their IT in a third-party service provider's environment in a co-located (or co-hosted) environment with a shared-services business model, while it is not uncommon for LEs to have a fully fledged data center facility hosting their IT infrastructure, applications, etc.
The IT footprint is termed as "light" for a medium-sized businesses (and even start-ups). IT services, in this case, are provided to the extent of just "running" the business. in addition, when it comes to the application footprint, SMEs tend to use Commercial Off-The-Shelf (COTS) software products as-is, with minimal customizations, while it is not uncommon for larger organizations to have a bigger application footprint with heavy customizations.
SMEs have lower IT budgets which mean tighter controls and more justification for spending.
SMEs might settle for less sophisticated systems, as long as it supports their business strategy and objectives.
Dedicated data centers are not mandatory in particular for SMEs. All applications can be hosted at a third-party service provider premises and accessed over the Internet. Networking, communication, and security technologies are mature ensuring that remote hosting of business applications does not lead to security concerns. Speed, agility, and efficiency are cornerstones of any business transaction and IT helps to achieve this.
The concept of Small Office Home Office (SOHO) has become a reality. Employees, wherever they are, at home, airports, or even in hotels, are able to connect to their organization's IT systems and access applications, thereby doing work remotely which is purely made possible by IT systems. Figure 1 describes some key IT requirements of an SME. (This is an illustrative depiction that reinforces some of messages in this section, while there could be many other business-specific requirements that are not listed in this diagram.)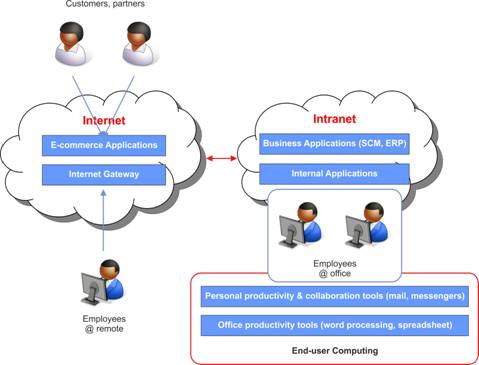 IT has become increasingly commoditized and being offered as a "service" or on a "pay-per-use" model. Cloud computing is drastically changing the way IT services are delivered and consumed. With a promise of every possible IT resource being offered "as a service" coupled with incentives like lower cost and service-level guarantees, organizations have started to embrace Cloud wherever possible. Cloud computing offers attractive and compelling benefits, especially to start-ups and medium businesses, by providing services on an OpEx (Operational Expenditures) model, thereby reducing the stress of capital investments. This does not mean that an organization will not have any IT assets, but rather implies that a majority of business investments is sourced from the Cloud. Software as a Service (SaaS) providers offer, for example, supply change management, mail, messaging, and productivity applications; others provide application and infrastructure platform services on the Cloud; while a host of other leading providers offers various different IT services. Building a technology landscape for a small and medium business has become quite efficient. Today an organization can do business by investing in end-user devices, Internet bandwidth, and obtaining other applications over the Cloud.