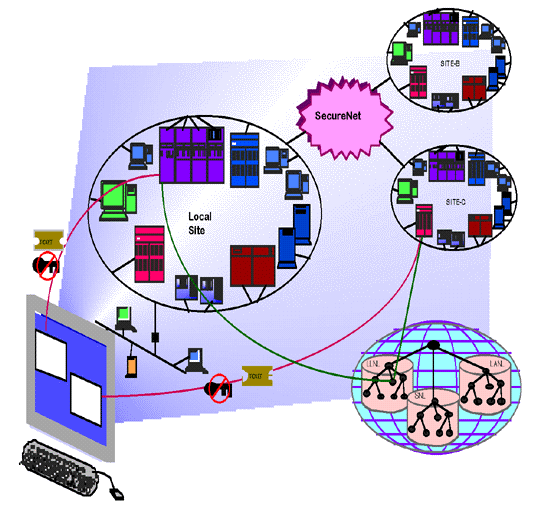 ---
Vision
Facilitate the joint development and use of terascale applications by establishing a common set of distributed computing services at each of the three laboratories. These computing services are structured to give users a single view of the unique ASCI high-performance computing resources in a secure, user-authenticated environment with a common home directory.
Objectives
Establish secure middleware infrastructure, spanning PSE from TFLOP to desktop
Single sign-on for secure, manageable access to ASCI resources
Enable secure file access and sharing through an ASCI-wide file system with integrated archival storage
Implement technical solutions for NTK separation
Approach
The Tri-Lab Distributed Computing team (a consortium of computer scientists from LLNL, LANL and SNL) is collaborating to coordinate
implementations of the DCE and DFS technologies from the The Open Group
security plans and MOUs for cross-cell trust between sites
with other PSE components and platforms for a well integrated solution
with other collaboratory efforts, including the ESnet DCE Working Group
"early on" with users to establish testbeds and evaluate technologies
Each site will "Think globally, Act locally" when building a DCE infrastructure at their site.
Laboratory Contacts
Bob Tomlinson
Los Alamos National Laboratory
505/665-6599
bob@lanl.gov

Barry Howard
Lawrence Livermore National Laboratory
510/422-4030
bhoward@llnl.gov

Doug Brown
Sandia National Laboratories
505/845-8699
cdbrown@sandia.gov

bhoward@llnl.gov -- Barry Howard

UCRL-MI-125923