Aerospatiale's CATIA users are flying high with a Distributed File System from IBM
"DFS provides the performance, cross-site replication and security that is critical to our competitiveness."
Jean-Pierre Margeot

The Aerospatiale group is a world leading designer and manufacturer of aeronautical and aerospace systems. As a FF 55 billion ($10 billion) company operating in a highly competitive international marketplace, Aerospatiale must give top priority to the efficiency and security of its engineering processes. Thanks to IBM's Enhanced Distributed File System (DFS), Aerospatiale's engineering department has achieved the level of file system performance, efficiency and security it needs to remain on the leading edge of its field.
The challenge: sharing CATIA files in a distributed environment
A recent engineering project at Aerospatiale required collaboration between engineers at two sites. One site is located at Les Mureaux, near Paris, and the other is 500 kilometers away, at Bordeaux.
The engineers at both sites rely heavily on Dassault's CATIA/CADAM computer-aided design products to support their team's design processes. These processes require that engineers be able to share data with their remote colleagues in real time. As drawings are completed, they need to be made available to all the other members of the team, at both sites.
The completed CATIA files, typically up to 100 Mbytes each, reside on an IBM RS/6000 390 server and a Sun Enterprise 4008 server at the Les Mureaux site, and on an RS/6000 42T server at the Bordeaux site. A 2 Mbps leased line connects the two sites.
Seeking a solution for large files, wide-area distribution
Before deciding on a DCE solution, the engineering department considered other file sharing schemes, but found that their performance over the wide-area link was unacceptable. "And, since they did not perform file replication," Margeot says, "We would have had to write our own code to carry out this function. Even with the code, maintaining updated versions of the shared files at both sites would create considerable administrative overhead. As engineers at each site complete their drawings, they would have to date them and manually transmit them to the other side."
Providing security for the CATIA data was also a concern. With the other approaches that Margeot's team evaluated, there was no robust mechanism for protecting these valuable assets, both in storage on the servers and in transmission across the local and wide area networks.
At this point, Margeot says, "There was no file sharing system between the two sites, because it was impossible to maintain."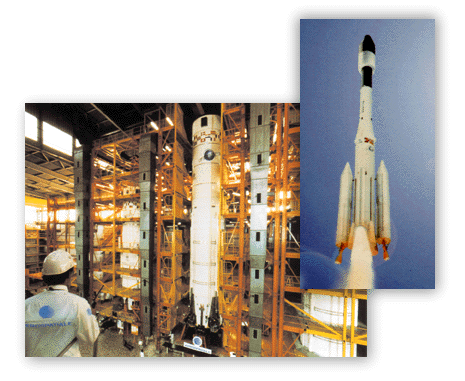 IBM provided much-needed experience in DCE-DFS
Looking for a comprehensive solution to these problems, Aerospatiale welcomed IBM's DFS. "We were interested in the DCE-DFS concept, but it was very hard to find someone in France who was familiar with the technology," Margeot says. "We found that IBM not only understood our vision for DFS, but also had the experience necessary to implement it."
That experience contributed to a smooth DFS implementation. "Everything went very quickly," Margeot recalls. "The CATIA users presented their problem to us at the end of October, and we found the solution and had the installation working by the following January."
DFS makes access easy for users, difficult for intruders
For Aerospatiale, the benefits of working with DFS are threefold: "DFS provides the performance, cross-site replication and security that is critical to our competitiveness," Margeot says.
Aerospatiale's measure of good performance is the ability of users to access data at a remote site as easily as if it resided on their local server. At the same time, the data they access must be synchronized with the master files on the remote server. But the CATIA files are too large to be kept synchronized across the wide area link using file transfer.
The DFS replication mechanism provides a key capability in allowing data on the servers at each site to be mirrored on the servers at the other site. This not only ensures real time data synchronization, but also minimizes traffic over the wide area link.
Aerospatiale has also benefited from DFS's client caching scheme, which keeps the majority of the read/write operations on the local workstation. "After initial data access," Margeot notes, "users benefit from the performance of their local disk, regardless of whether the master copy of the data resides on the local or the remote DFS server."
DFS takes advantage of DCE's Access Control Lists (ACLs) to protect the CATIA files from unauthorized access and updates. And its authentication mechanism is based on Kerberos Version 5, a third-party private key technology.
The right file system for a wide range of applications
According to Margeot, the DFS implementation is expanding beyond the original CATIA application. "Our users wanted to be able to access CATIA drawings from Windows NT servers in order to incorporate them into word processing documents and graphics files. With IBM's DFS, they can."
UNIX servers running IDEAS and 3DX have also been incorporated into the DFS. "As we gain experience with DFS, we find that it's a solution worth extending to many other projects," Margeot says.
For more information please contact:
IBM Marketing Representative,
IBM Business Partner, or
IBM Direct at: 1 800 IBM CALL
For information faxed direct to your location:
1 800 IBM 4FAX
Visit our Web site at:
http://www.software.ibm.com/enetwork/dce/
© IBM Corporation
1701 North Street
Endicott, NY 13760

Printed in the United States of America
2-97
All Rights Reserved
This brochure illustrates how one customer uses IBM products. Many factors have contributed to the results and benefits described. IBM does not guarantee comparable results. All information contained herein was provided by the featured customer and IBM Business Partners. IBM does not attest to its accuracy.
References in this publication to IBM products or services do not imply that IBM intends to make them available outside the United States.
IBM is the registered trademark of International Business Machines Corporation. IBM company product and service names are trademarks or registered trademarks of IBM. Other company, product or service names may be trademarks or service marks of others.