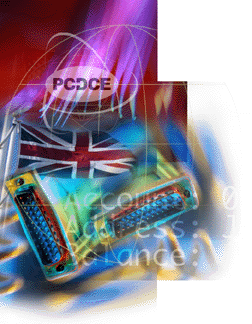 "DCE is not the only cross-platform RPC mechanism. There are alternatives. We chose DCE because it had the broadest base of support across the industry, initially from vendors, and increasingly from end users as well."
"We need our PC users to be part of the DCE-based IT system, so that we can deliver access to any DCE-based service running on any platform. We have been using Gradient's PC-DCE products since the beginning of 1995 and they are still the best on the market."
Brian O'Malley, Project Leader - Mercury Communications
Achieving a dominant market position has been a considerable challenge for Mercury Communications, the United Kingdom's second largest telecommunications company.

As in most organizations, Mercury uses its IT systems to ensure the smooth and efficient operations of the company. Information stored on servers and mainframes must be easily accessed and updated. And like many large companies, Mercury's IT system has evolved over a number of years in order to meet the needs of various departments. The result is a disparate IT network incorporating IBM, Digital, UNIX, and PC-based systems. At the same time, departments within Mercury had a clear need to access information across the enterprise, necessitating an integrated IT system.

For Mercury's customer inquiry centers, employees needed to access corporate information on bills and services from a variety of IT systems spread throughout the organization. To ensure interoperability across disparate platforms, Mercury chose The Open Group Distributed Computing Environment (TOG DCE), including PC-DCE from Gradient Technologies.

In its full configuration, DCE consists of a variety of services that developers can use to create applications that are portable and interoperable. It provides an environment in which all systems and their resources are widely available regardless of the location of the user. DCE is operating system- and network-independent, providing compatibility with users' existing environments. The primary services integrated in DCE are Remote Procedure Calls (RPCs), Distributed Naming Service, Distributed Time Service, Security Service, and POSIX Threads.

For Mercury, it was DCE's RPC capability that delivered the most value. RPCs distribute the execution of an application by enabling individual procedures in an application to be run on a computer somewhere else in the network. RPCs support direct calls to procedures on remote systems, effectively extending the familiar local procedure call and allowing programmers to develop distributed applications as easily as traditional single-user systems. In addition, the difference between data representations on different machines is masked so programs can work across heterogeneous systems.
"DCE is not the only cross-platform RPC mechanism. There are alternatives," said Brian O'Malley, project leader, Mercury. "We chose DCE because it had the broadest base of support across the industry, initially from vendors, and increasingly from end users as well."

One of Mercury's corporate policies has been to adopt an IT structure based on an open, standards-based, distributed services model. Standard functions - for example, customer account details, address details, employee status, etc. - had to be created that could be used to support any application that needed them. Typically, this functionality had been built into individual applications and had not been accessible from outside those applications.

To implement a distributed services approach, Mercury used a three-layer client/server architecture based on DCE. The three-layer client/server architecture consists of front-end applications, a communications infrastructure, and back-end services.

In addition to providing the physical network and communications protocols, the DCE-based communications infrastructure provides facilities such as security services (for authentication, authorization, data privacy and integrity), directory services (so that applications need not be aware of the location of the services they call), and data conversion. With such a system in place, it is possible for any application to access any service as long as it has the authority to use it, regardless of the service platform.

Gradient was the first company to offer DCE for the desktop, enabling PC and Macintosh users to interoperate with all other DCE-compliant systems (such as IBM, Hewlett-Packard, and Sun) as trusted peers, and promoting wider deployment of the technology.

Initially, Mercury's DCE-based applications were developed to deal with customers' inquiries regarding, for instance, bills through the Billing Inquiry System. The Billing Inquiry System is still rolling out and is currently in operation at Mercury's Wythenshawe, Warrington, and Bracknell centers in the UK.

The system is used for handling billing complaints and inquiries on billing for Mercury's residential telephone customers. PC-DCE has the benefit of making the inquiry process more transparent to the end user. All the application functionality has moved to the middle layer of the three-tier architecture rather than the client front end, effectively hiding the back-end system from the end user. The new system also enables users to call up photographic quality images of individual bills.

The use of DCE has been so successful at Mercury that it has recently been expanded to encompass a second project. Gradient's PC-DCE product was chosen to enable the Windows-based PCs in the Service Management Centers to access these new applications. The Service Request Management System has been running since the beginning of 1995 and will expand to a total of 700 users. It is currently rolled out in twelve locations.

"DCE is extremely appropriate for larger organizations that have to some extent inherited their IT systems," added O'Malley. "It is a technology that has a long-term future. It is not something that is standing still but is continually developing in client/server systems. DCE provides the infrastructure we are looking for to integrate our systems, ease-of-use for the end user, security, and the ability to adapt and change with the latest networking technologies."
Gradient's PC-DCE Product Family
Gradient Technologies, Inc. is the leading supplier of The Open Group Distributed Computing Environment (TOG DCE) technology for the desktop. Gradient provides DCE runtime services for Windows 3.1, Windows 95, Windows NT, and Apple Macintosh, as well as DCE servers for Windows NT. Gradient also offers the DCE Distributed File System (DFS), a system software service that enables computers to share files within and across enterprises, for Windows NT.