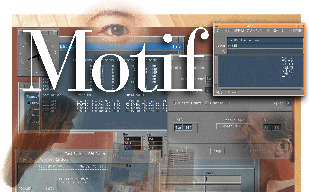 Motif 2.1.30 Now Available
We've completed Motif 2.1.30! If you are a Motif 2.1 Support customer you should have already gotten access to the code.
New Motif 2.1 customers will also get this code. This is the latest patch release to Motif 2.1 and includes over 100 Motif defect fixes.
What is Motif?
Motif® is the industry standard graphical user interface, (as defined by the IEEE 1295 specification), used on more than 200 hardware and
software platforms. It provides application developers, end users, and system vendors with the industry's most widely used environment for
standardizing application presentation on a wide range of platforms. Motif is the leading user interface for the UNIX® based operating system.
The Motif graphical user interface (GUI) toolkit facilitates the development of applications for heterogeneous, networked computing environments. By providing application portability across a variety of platforms, the Motif environment helps protect valuable investments in software and user training.
Motif is also the base graphical user interface toolkit for the Common Desktop Environment (CDE).

Motif Data Sheet

Ordering Motif

Publications

Questions & Answers

Contacts