Authorized Trainer Badges are available to qualifying individuals registered with The Open Group by The Open Group Accredited Training Course providers.
In addition to being appropriately qualified, we require Authorized Trainers to:
Be skilled in teaching
Have knowledge of and experience in the subject area
Be familiar with the Body of Knowledge and keep themselves up-to-date in line with changes therein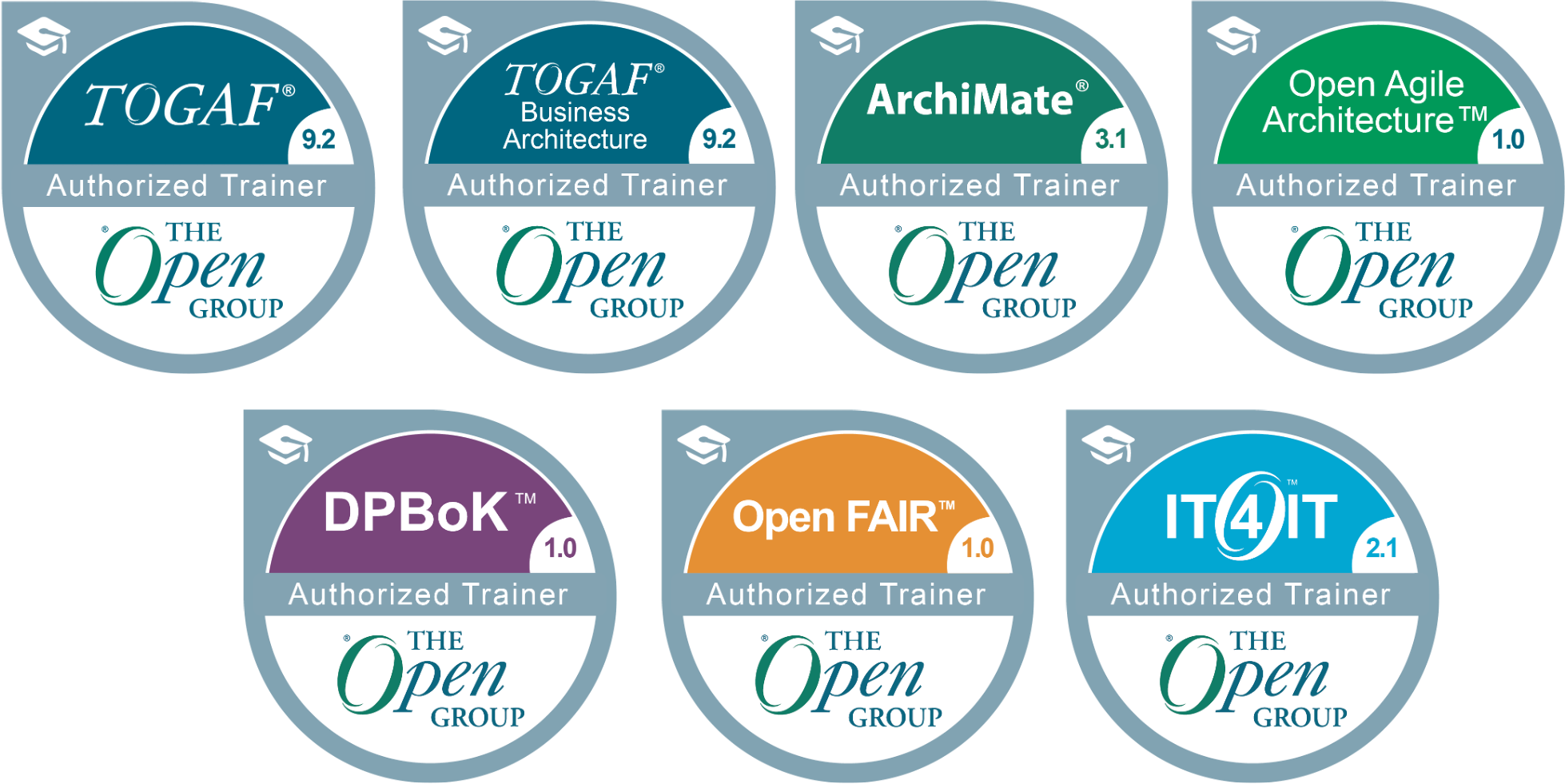 The Authorized Trainer Badges currently available are:
Authorized Trainers Badges demonstrate that a trainer:
has been registered by an ATC provider and formally approved by The Open Group to deliver Accredited Training Courses
meets the Accreditation Requirements in the applicable program version
Authorized Trainers Badges are not a proof of Training Course Accreditation. For more information on Training Course Accreditation and how to recognize an ATC, click here.
Authorized Trainers Badges are Open Badges. Open Badges are digital, verified by secure metadata, and a means for individuals to display, and organizations to easily verify certifications, achievements, and awards online, including milestones on the way to a full certification.
Open Badges can be used in email signatures, personal web sites, social media sites such as LinkedIn and Twitter, as well as on electronic copies of resumes. For more details on how to share your badge please visit the Credly Help Center "Sharing to Social Media".
Frequently Asked Questions
Q: I am an Authorized Trainer; how can I receive my Authorized Trainer badge(s)?
A: You will need to apply for the badge using the online form (login required), accept the terms and conditions, and pay the applicable fee(s). Further instructions are on the form.
Q: What are the fees applicable?
A: The fees are payable one time only and are as follows:
Description

Fee

Payment Due upfront

Badge Fee

US $30

US $40

US $50

One (1) badge

Two (2) badges

Three (3) or more badges
Q: Can I place an order for several badges and request them over time?
A: No. You can only place an order for badges covering ATCs you are currently authorized to deliver.
Q: Do I need to renew my badge(s)?
A: The badges do not require to be renewed. They, however, apply to specific versions of the standard; they do not apply to a next version.
Q: How can I see to which version of the standard my badge(s) apply?
A: The version of the standard is showed on the badge: e.g. 9.2, 3.1, 1.0…
Q: How can I get a badge reflecting the new version of a standard after an update?
A: You will be need to pass the applicable exam or assessment as per the Accreditation Requirements. Your ATC manager will need to inform the Certification Authority that you have passed. You can then apply for a new badge using the online form. The usual fee will apply.
Q: What happens to my Open Badge if I am no longer working as a trainer for an Accredited Training Course Provider?
A: Upon notification from the Accredited Training Course provider that you are no longer a trainer for them, the Open Badge will be revoked at Credly.
Q: Do I have to pay for a new Open Badge if I start working for a new Accredited Training Course Provider and had previously held a badge which was revoked?
A: No, on request The Open Group will reactivate the existing Open Badge.
Q: Can I advertise the Open Badge in connection with provision of training services that are not associated  with an Accredited Training Course Provider?
A: No, the Open Badge is only for authorized trainers hat have been registered by an ATC provider and formally approved by The Open Group to deliver Accredited Training Courses