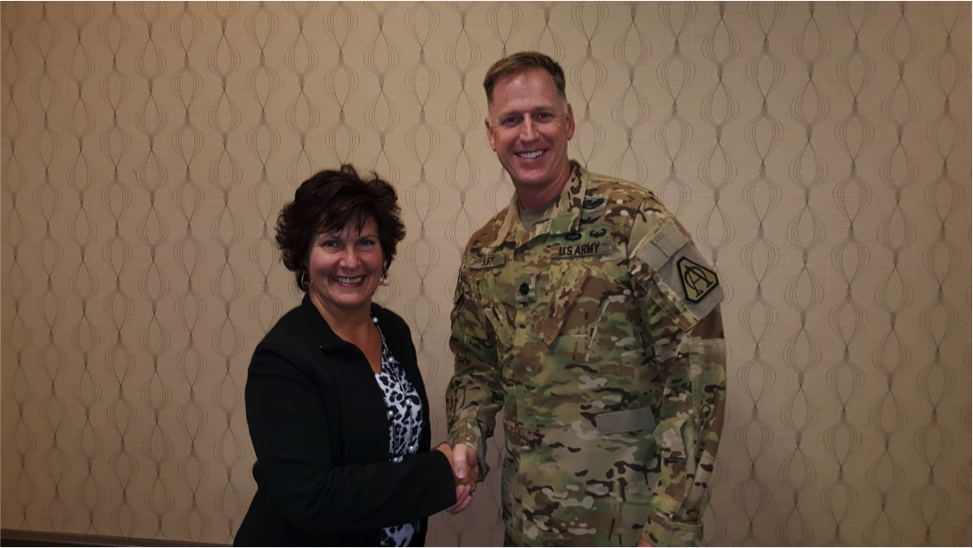 The Open Group FACE Consortium and JTNC MoU is sealed with a handshake between Judy Cerenzia, FACE Consortium, Director and LTC Matt Jury, JTNC, Deputy Director, during the FACE Consortium F2F Members Meeting, March 29, 2017 in Dayton Ohio
San Francisco, California, US – May 2, 2017: The Open Group Future Airborne Capability Environment (FACE™) Consortium, a government and industry partnership to define an open avionics environment for all military airborne platform types, today announced that they have signed a Memorandum of Understanding (MoU) with the Joint Tactical Networking Center (JTNC).
The JTNC joined The Open Group FACE Consortium as an Associate member in July 2015, and the MoU includes a number of joint activities that support the harmonization of the FACE Technical Standard and JTNC's Software Communications Architecture (SCA) Standard for the mutual benefits of all. These activities include:
Exchanging information concerning areas of interest and plans to achieve their respective goals
Collaborating to support their respective missions
Conducting joint meetings to discuss potential areas of alignment
"Collaboration between the two organizations is excellent news for suppliers to the military, who can achieve greater efficiencies where the standards are aligned, with many systems-of-interest requiring conformance to both the SCA and FACE standards. Government customers also benefit by being able to procure and reuse components that conform to both standards," said Judy Cerenzia, Director of The Open Group FACE Consortium.
Cerenzia continued, "The JTNC's membership in the FACE Consortium has already facilitated the exchange of ideas between two organizations that wish to align existing open standards, and new ones where necessary. The MoU formalizes this collaborative relationship to more effectively achieve the aims of The FACE Consortium and the JTNC in a quicker timeframe than ever before."
- Ends -
Notes to Editor:
Full resolution imagery available on request from Hotwire PR.
About The Open Group FACE™ Consortium
The FACE Consortium was formed in June 2010 as a government and industry partnership to define an open avionics environment for all military airborne platform types. Today, it is an aviation-focused professional group made up of industry suppliers, customers and users. It provides a vendor-neutral forum for industry and government to work together to develop and consolidate the open standards, best practices, guidance documents and business models necessary to result in:
Standardized approaches for using open standards within avionics systems
Lower implementation costs of FACE systems
Standards that support a robust architecture and enable quality software development
The use of standard interfaces that will lead to reuse of capabilities
Portability of applications across multiple FACE systems and vendors
Procurement of FACE conformant products
More capabilities reaching the Warfighter faster
Innovation and competition within the avionics industry
Members of the FACE™ Consortium
http://www.opengroup.org/face/member-list
About The Open Group
The Open Group is an international vendor – and technology – neutral consortium upon which organizations rely to lead the development of IT standards and certifications, and to provide them with access to key industry peers, suppliers and best practices. The Open Group provides guidance and an open environment in order to ensure interoperability and vendor neutrality. Further information on The Open Group can be found at www.opengroup.org.
Media Contact:
Holly Hunter
Hotwire PR
+44 207 608 4638
About JTNC
The JTNC is an organization of the Department of Defense with responsibilities that include designing, evolving and promulgating software standards in order to maximize open systems architecture development, enhance network security, assure operational readiness, and promote software portability. Within the JTNC, the Standards Directorate has oversight of the SCA - a DoD mandated and internationally recognized architectural framework standard for tactical software defined radios. For further details on the JTNC and SCA please see: http://www.public.navy.mil/jtnc