The Open Group Open Subsurface Data Universe™ Forum is developing a standard data platform for the oil and gas industry, which will reduce silos and put data at the center of the subsurface community.
The OSDU data platform will:
• Enable secure, reliable, global, and performant access to all subsurface and wells data
• Reduce current data silos to enable transformational workflows
• Accelerate the deployment of emerging digital solutions for better decision-making
• Create an open, standards-based ecosystem that drives innovation
This will revolutionize the industry's ability to deliver new capabilities and reduce implementation and lifecycle costs across the subsurface community.
If your organization is not yet a Member of the OSDU Forum and would like to get involved go here.
| | |
| --- | --- |
| For further information, please download the latest OSDU brochure. | To find out about the latest developments in the OSDU Forum, download "In the Pipeline" Newsletter. |
| | |
OSDU Release 1 Published for OSDU Forum Members
OSDU Reference implementations prove the OSDU platform can be cloud-agnostic: running on different cloud service providers, in different data centers, delivering the same value according to OSDU specifications. 
Release 1 is available for adoption to help you build experience with data preparation and data loading on the OSDU data platform. It is not intended to run operational applications. 
Available on AWS and Microsoft Azure public cloud platforms
Support for OpenID Connect based authentication
Support for OSDU Wells Schemas
Supports fundamental Well Workflows: Well data load and ingest;  text and map-based search;  display for well log curve, cross-section or transverse of trajectory
Enables Machine Learning Workflows; Natural Language Processing workflows
Improved indexing algorithm (from Demo)
Removed cloud provider-specific references in the APIs
Includes INT IVAAP and Subsurface I/O (formerly Well Log Data) applications with a limited-time trial license
To get started with OSDU Release 1, please have your OSDU focal point contact your preferred cloud provider to prepare for and plan the implementation under your subscription.
If your organization is not yet a Member of the OSDU Forum and would like to get involved, email memberservices@opengroup.org
Introducing The Open Group Open Subsurface Data Universe™ Forum featuring Johan Krebbers from Shell
The Open Subsurface Data Universe™ (OSDU) Forum: A Game Changer for the Energy (Subsurface) Industry
The Open Group Journey with Open Standards Continues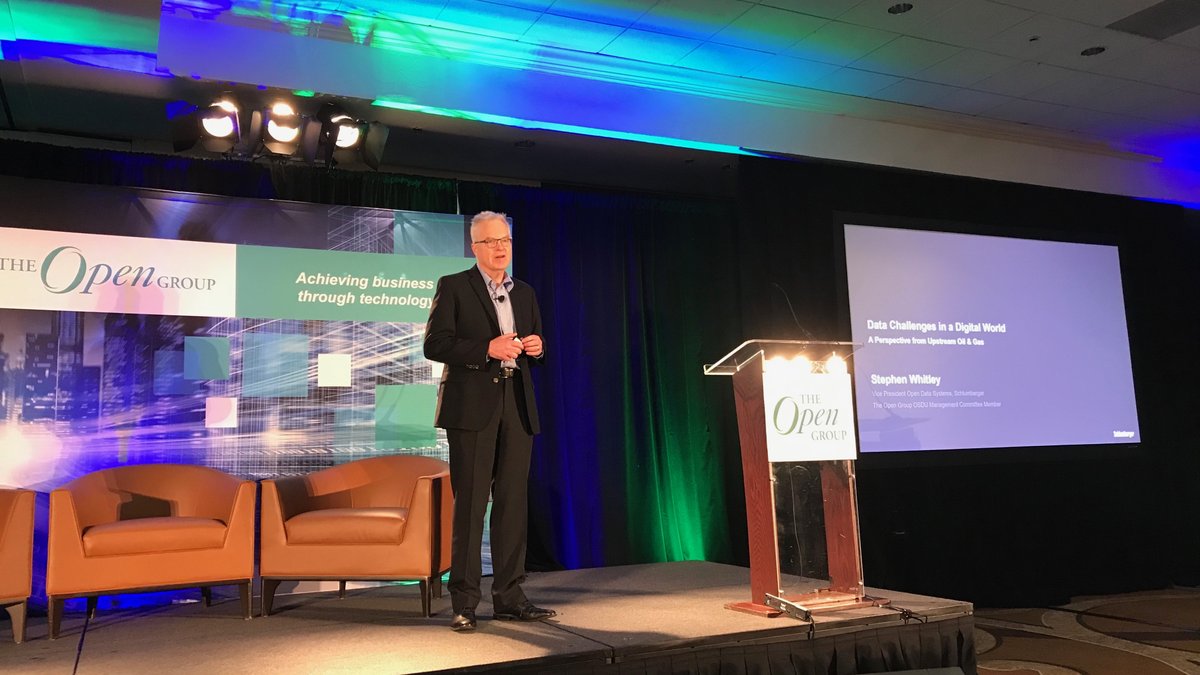 Upcoming Events
Speakers from the OSDU Forum will be participating at a number of industry events over the next few months.
Stephen Whitley, VP Open Data Ecosystems at Schlumberger, presents 'Data Challenges in a Digital World - A Perspective from Upstream Oil & Gas' at The Open Group San Antonio on January 27, 2020
Get Involved and Gain Influence in Defining Open Standards and Certifications
Being a member of The Open Group gives organizations early access to the latest information and developments regarding open standards and best practices, and enables them to participate in The Open Group's highly influential Forums and Work Groups. We provide a collaborative, vendor-neutral environment where member representatives can:
• Network with a world-class community of peers, experts and industry leaders
• Have early access to information on industry developments
• Gain insight for future decisions from both major customers and suppliers of IT
• Influence outcomes that benefit their organizations
• Grow professionally and enhance their credibility in the industry
• Receive education in best practices
For a current list of members of the Open Subsurface Data Universe, please go here.
If your organization is not yet a Member of the OSDU Forum and would like to get involved go here.