Open Platform 3.0™ Snapshot –
Event Model
This appendix describes a possible event model.
Human and system users require that event handling is transparent, assuring service solutions maintain their expected assurance, security, and privacy levels. A failure of a Service-Level Agreement (SLA) or an Operational-Level Agreement (OLA) creates an event, or policy non-compliance. Events are correlated to provide human or system operators with the ability to discern a root cause to failure. In general, there are four enterprise vectors for event correlations that manage enterprise properties and/or facilities:
Security vectors (one or more Security and Information Event Managers (SIEM)
One or more IT operations managers (ITOM)
One or more Data Center Information Managers (DCIM)
One or more Integrated Work Management Systems (IWMS)
These four systems may contain details for any event that might occur over an enterprise in order to support SLA/OLA compliance of services sponsored by Open Platform 3.0. The intersection or union of these event vectors may contain SLA/OLA event details for the assets, systems, and/or things that caused a service disruption.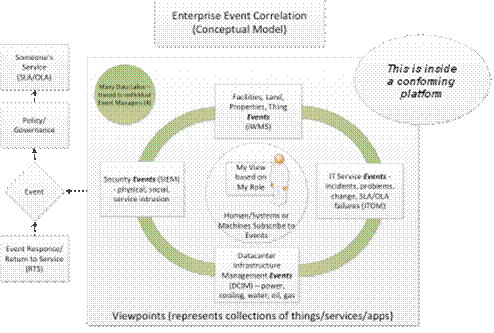 Event Model
Transparent event flow should support the union of cloud computing, mobile computing, social computing, big data, and IoT events that support a singular user or system service. Enterprise event-correlation is critical to assure SLA/OLA compliance – demand from a user, system, or machine.