The Future Airborne Capability Environment™ (FACE) Approach is a Government-industry developed software standard and business strategy with the goals to:
• Increase the affordability of capabilities
• Improve time-to-field, delivering new capabilities to the warfighter faster
The FACE Approach integrates technical and business practices that establish a standard common operating environment to support portable capabilities across avionics systems.
The FACE Technical Standard defines the requirements for architectural segments and key interfaces that link the segments together. This enables the reuse of capability-based software components across different hardware computing environments. The idea is to avoid "reinventing the wheel" for every new platform system. It also enables rapid replacement of older software and insertion with new and improved capabilities throughout the system lifecycle. The FACE Approach is relevant to both enduring systems and future systems, including new system designs, system-level upgrades, and component upgrades.
 FACE Technical Standard
The FACE Technical Standard is an open, non-proprietary specification that is publicly available without restrictive contracts, licensing terms, or royalties. The open standards specified within the FACE Technical Standard allow use without payment or other obligation to the standards owners. Additionally, neither the FACE Technical Standard nor the FACE Conformance Certification Process require or prohibit a software supplier to relinquish rights to Technical Data (TD) or Computer Software (CS) within the software, the business logic, the presentation logic, or any other logic whether in the application or the software computing environment. Adherence to the FACE Technical Standard is enforced through the FACE Conformance process. FACE Conformance ensures proper use of the defined FACE Interfaces and adherence to the FACE Reference Architecture. In addition to conformance, the FACE Approach addresses other practical business concerns such as contracting (FACE Contract Guide), value proposition and business drivers (FACE Business Guide), and product registry (FACE Library documents).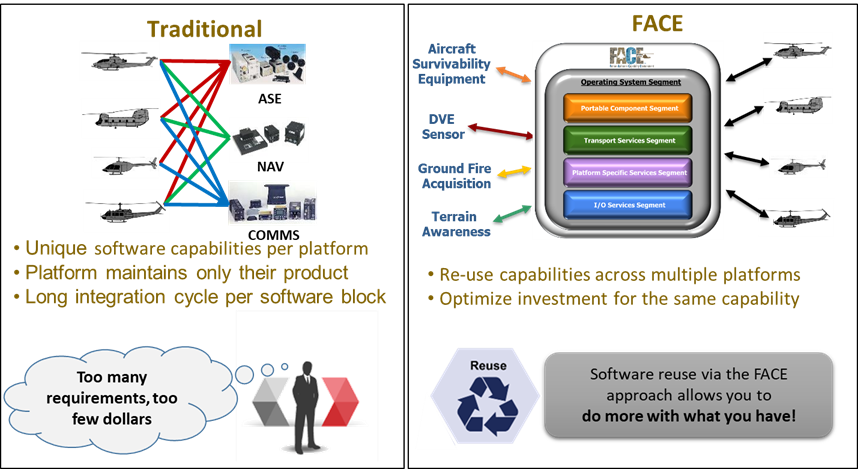 Benefits to Government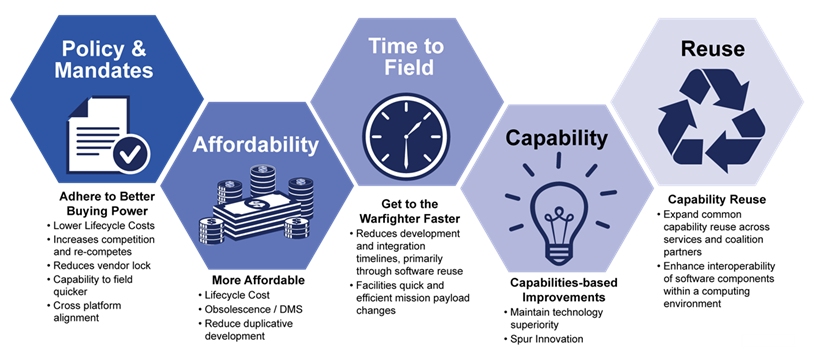 By requiring and applying the FACE Approach, the Government will realize numerous benefits supporting key business drivers.
The FACE Approach satifies all five Modular Open Systems Approach (MOSA) Principles and is a technical and business strategy for designing an affordable and adaptable system. The FACE Approach supports the US Air Force, US Army, US Navy, "Modular Open System Approaches for Our Weapon Systems is a Warfighting Imperative" memorandum that specifies the FACE Technical Standard as one of four standards that is vital to the success of US military operations. In addition, the FACE Technical Standard and Business Approach aligns directly to DoD acquistion directives, such as the Undersecretary of Defense for Acquisition, Technology, and Logistics' Better Buying Power (BBP) Initiatives of:
• Promoting effective competition, achieve affordability, and control lifecycle costs
• Incentivizing productivity and innovation in industry and Government
• Reducing subsequent software development times through modularity and portability
The FACE Approach also facilitates Cross-Platform Decision-Making that:
• Enables the ability to reuse software across multiple platforms
• Reduces redundant investment for the same capability
• Enables system of systems integration and interoperability through a common operating environment and data architecture
The Government has demonstrated its commitment to the success of the FACE Approach through its published policies, memoranda, and commitment of financial resources. This includes the continuous participation and leadership in the FACE Consortium (Army, Navy, and Air Force), establishment of FACE Verification Authorities by the Naval Air Systems Command (NAVAIR) and US Army CCDC AvMC, solicitations and programs of record with FACE requirements, and funding of academia activities to create supporting products.
Benefits to Industry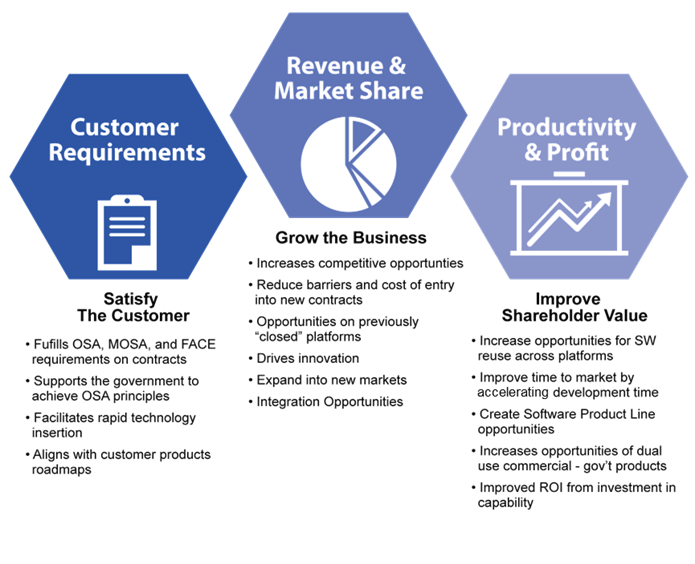 Adopting the FACE Approach provides industry with the opportunity to satisfy the customer's requirements for MOSA principles are supported. The FACE Approach also provides prospects to grow the business through expanded market opportunities. It can enhance opportunities for smaller procurements based on capabilities, thus enabling more opportunities to compete for separate components. Additionally, even if a firm is not selected as the primary winner on a given contract, there will be more opportunities to compete as a supplier as platform upgrades and tech refreshes are scheduled for individual capabilities. The FACE Approach also helps to improve profit and productivity. Instead of limiting a single software capability to a single program, the FACE Approach enables a new capability to be used across multiple platforms. It also enables integrators to more efficiently integrate platformxs using new capabilities and move technologies nto new environments. Companies that take advantage of these new opportunities can grow their business. The modularity defined in the FACE Approach enables an agile environment for firms to respond to market and customer demands for capability changes and upgrades. Those firms that display this agility for rapid technology insertion and accelerated time-to-market will be benefiial for both the warfighter as well as the bottom line. Industry has proven its commitment to the success of the FACE Approach by completing FACE conformance certification for its products. This enables military programs to rapidly select pre-certified software modules to reduce design, integration, and conformance costs for all programs requiring FACE conformance.