Welcome to the The Open Group Certified Architect (Open CA) Program web site
The Open Group Certified Architect (Open CA) Program is designed to validate the existence of those qualities and skills in a professional that enable the effective practice of IT architecture. The program is skills and experience-based and goes beyond validating the mastery of any specific knowledge base.
The program includes a framework for accreditation of third parties to establish IT Architect certification programs affiliated to The Open Group. The framework of accreditation and certification is specifically intended to standardize the process and criteria for IT Architect professional certification and establish a foundation for the required skills and experience necessary to achieve such a distinction. The program was designed to be flexible and extensible so that the framework may be adopted by any industry, country, or organization.
The Open Group supports two different routes to certification:
The first route is direct certification by The Open Group.
The second is indirect, through third-party programs accredited by The Open Group. Accredited Certification Programs are abbreviated to ACPs.
The following diagram shows the outline certification process for Individuals: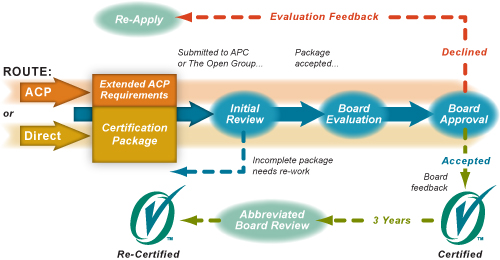 The Conformance Requirements for certification apply equally to the direct and indirect routes to certification.
The program is based upon four key documents:
The Certification Policy, which sets out the policies and processes by which an individual may achieve certification.
The Conformance Requirements, in which the skills and experience that a Certified Architect must possess are documented
The Accreditation Policy, which sets out the policies and processes by which an organization may achieve accreditation
The Accreditation Requirements, in which the criteria that must be met by an ACP are documented