ArchiMate® is an open and independent modeling language for Enterprise Architecture, supported by different tool vendors and consulting firms. Users of ArchiMate benefit from sharing a common language for describing the construction and operation of business processes, organizational structures, information flows, IT systems, and technical infrastructure.
The ArchiMate Certification for People Program provides certification for people and training courses. The latest version of the program is for the ArchiMate 3 certification.
The ArchiMate Certification for People Program is a market-driven education and certification program to support the ArchiMate modelling language, and ensures that individuals are knowledgeable about the visual modelling language.
The following Open Group Open Badges are now available for certified individuals: Foundation and Practitioner. For more information on The Open Group Open Badges see here.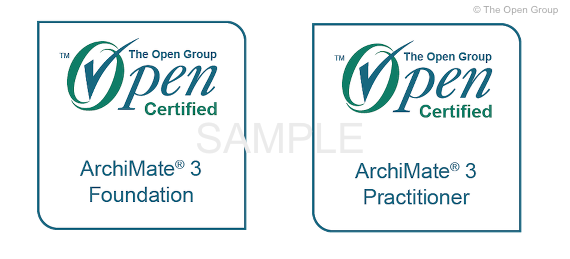 Program Datasheets
The following datasheets are available describing the ArchiMate for People Certification program.
Certification for Individuals
Accreditation of ArchiMate Training Courses
See also
Click here to check if your organization is a license holder.
For inquiries please contact The Open Group ArchiMate Certification Authority by sending an email.