TOGAF® certification provides a clear path for professional development and credibility to employers
The TOGAF® Standard, a standard of The Open Group, is the open Enterprise Architecture standard used by the world's leading organizations to improve business efficiency. The Open Group TOGAF Certification Program has enabled more than 70,000 Enterprise Architects and trainers around the globe to demonstrate their proven knowledge of the framework.
The TOGAF 9 Certified qualification is achieved through passing two exams, following a course of self-study or attendance at an Accredited Training Course. There is also an entry level qualification, TOGAF 9 Foundation, which is achieved by passing just the first exam. The TOGAF 9 certification program applies to the 9.x releases of the TOGAF Standard. The current syllabus for all accredited courses is based on the TOGAF Standard, Version 9.2. For individuals and trainers who want to keep up to date or specialize in a certain area, the certification is supplemented with a number of TOGAF Credentials which lead to the award of Open Badges.
The Open Group TOGAF certification is:
• Used by the world's leading enterprises to certify a common body of core knowledge about the methodology and framework
• A trusted, vendor-neutral, globally recognized and portable credential
• Valuable in demonstrating to employers and peers your commitment to enterprise architecture as a discipline
• An outstanding career move and a foundational certification in the career of any Enterprise Architect
An Open Badge is available for both certification levels Foundation and Certified (for information on The Open Group Open Badges program see here), and a supplemental badge is available to denote the version.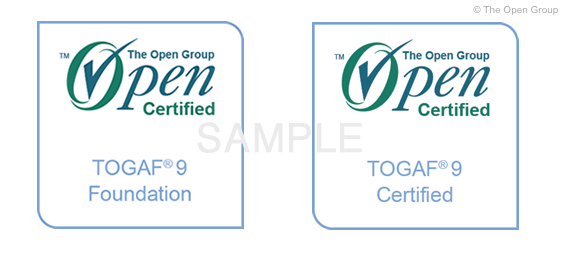 Program Datasheets
The following datasheets are available describing the TOGAF for People Certification program.
Certification for Individuals
TOGAF Credentials
Supplemental Badges
Virtual Training resources
Find out more about the virtual training courses and examinations.
Accreditation of TOGAF Training Courses
See also
Click here to check if your organization is a license holder.
Enquiries
Please contact The Open Group TOGAF Certification Authority by email.