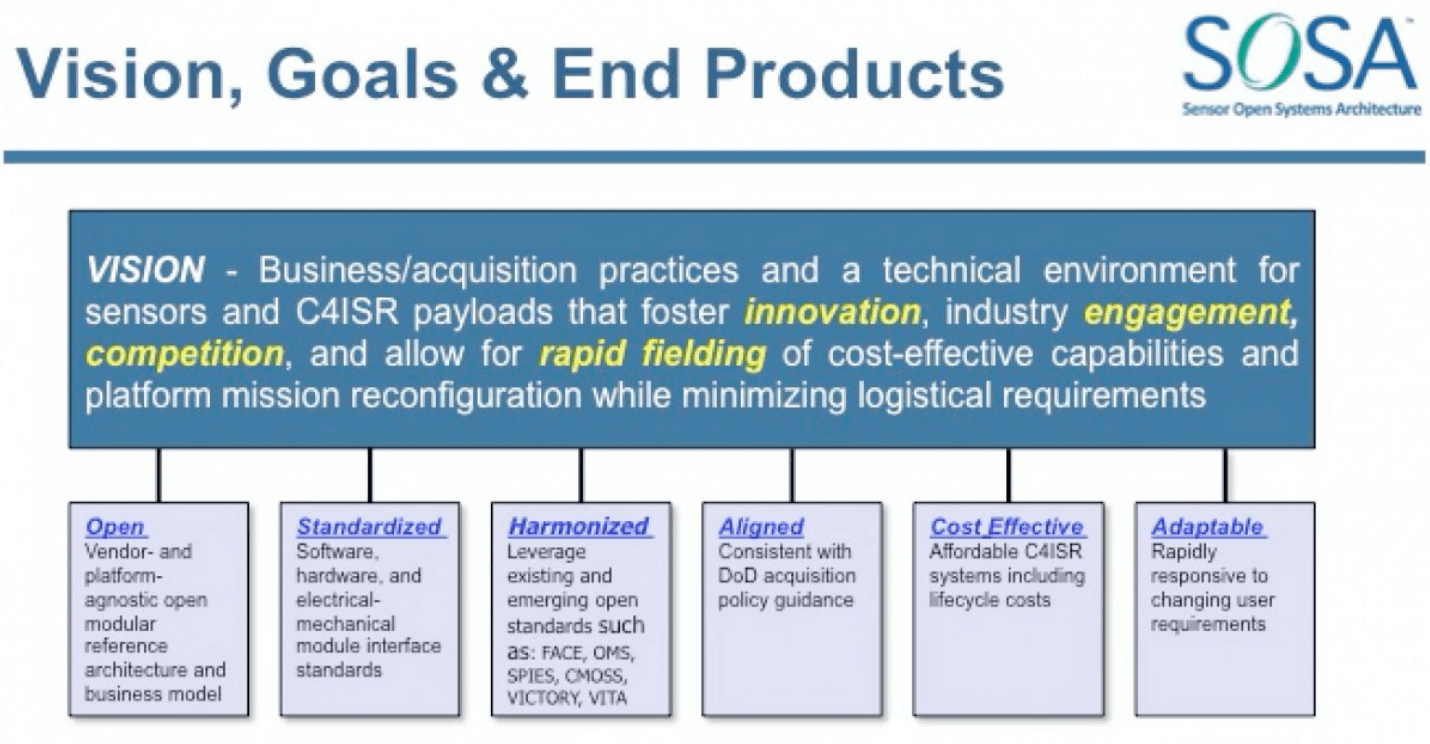 As sensor systems increase in number, applications, cost and complexity, users need to address issues such as affordability, versatility and capabilities. Sensor systems should be rapidly reconfigurable and reusable by a greater number of stakeholders. The SOSA Consortium enables government and industry to collaboratively develop open standards and best practices to enable, enhance and accelerate the deployment of affordable, capable, interoperable sensor systems.
The SOSA Consortium is creating open system reference architectures applicable to military and commercial sensor systems and a business model that balances stakeholder interests. The architectures employ modular design and use widely supported, consensus-based, nonproprietary standards for key interfaces that are expected to:
• Reduce development cycle time and cost
• Reduce systems integration cost and risk
• Increase commonality and reuse
• Reduce sustainment and modernization cost
• Support capability evolution and mitigate obsolescence
• Enable technology transition
• Facilitate interoperability
• Isolate the effects of change
The SOSA Consortium creates a common framework for transitioning sensor systems to an open systems architecture, based on key interfaces and open standards established by industry-government consensus.
The SOSA approach establishes guidelines for Command, Control, Communications, Computers, Intelligence, Surveillance and Reconnaissance (C4ISR) systems. The objective is to allow flexibility in the selection and acquisition of sensors and subsystems that provide sensor data collection, processing, exploitation, communication, and related functions over the full life cycle of the C4ISR system. 
The architecture will incorporate both hardware and software components to handle demanding processing and data requirements, ease system upgrades, reduce total cost of ownership, and promote competitive acquisition with minimal system reworks.
The SOSA Consortium's efforts are focused on the following development areas:
Designing a non-propriety open systems architecture based on DoD-relevant government or commercially available open standards for reconfigurable, evolvable, and affordable C4ISR capabilities

Establishing a conformance process, protecting intellectual Property (IP) rights, and providing guidance for incorporating SOSA into the acquisition process

Opening competition and encouraging innovation while lowering costs and delivering new capabilities faster