The Open Group Security Forum Steering Committee is devoted to handling general business of the Security Forum. All Member organizations of the Security Forum are entitled to participate in the Security Forum Steering Committee; individuals joining meetings should expect to contribute actively.
To learn whether your organization is currently a Member of The Open Group Security Forum, see our list of members.
The Steering Committee is responsible for assisting and enabling Security Forum Working Groups and their respective Projects. The Security Forum currently has two main areas of focus: Security and Risk Management and Zero Trust Architecture. The Steering Committee offers advice, input, and feedback as needed and requested to ensure the success of these Working Groups.
Steering Committee meetings are comprised first and foremost of updates on Security Forum Projects and Activities. Project leaders are particularly encouraged to attend these meetings to ensure updates are accurate and to provide insight into project successes and shortcomings.
The Steering Committee also makes decisions about proposed projects and activities. Any current Silver or Academic Member of the Security Forum as well as all Gold and Platinum Members of The Open Group are welcome to propose a project for the Security Forum to undertake. This process involves drafting a Project Charter with the assistance of Security Forum Director John Linford and scheduling a meeting to present. The Steering Committee will discuss the proposal during the meeting and determine whether an existing Working Group will take on the work or whether a new Working Group will be formed. The process is described here: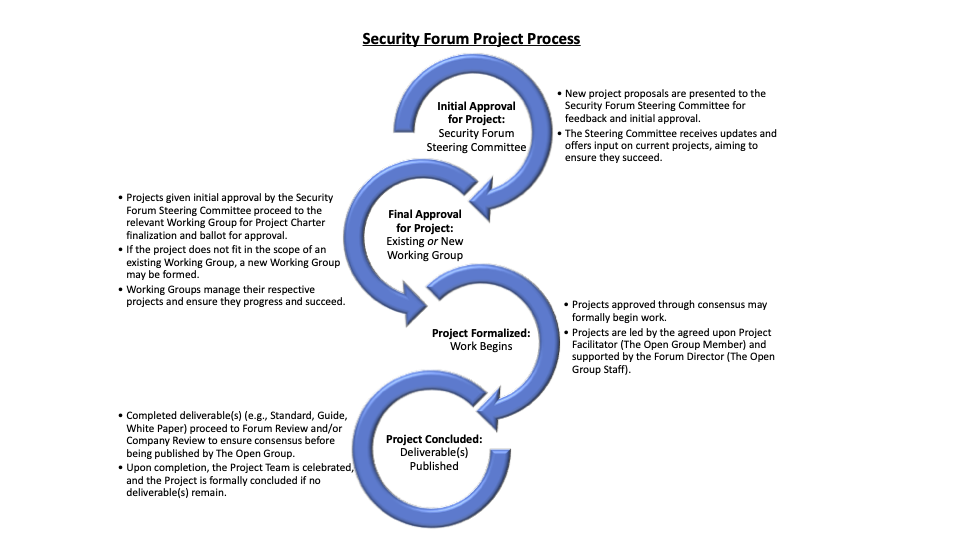 The Security Forum Steering Committee is also responsible for planning for Security Forum presence at The Open Group Events (when face-to-face meetings are appropriate and safe). The Steering Committee works with the Forum Director to develop and publish an agenda for Members Meetings as well as to develop and refine presentations to be given as part of the events.
The Security Forum encourages participation from every Member Organization in the Steering Committee to ensure their voices are heard and their input received on current and potential projects and activities.
Members are welcome and invited to suggest agenda items and propose projects for Steering Committee meetings. The Forum Director, Forum Chair, and/or Forum Vice-Chair will work with you to plan your presentation and schedule adequate time for discussion.
Security Forum Operating Charter
To inquire about joining or presenting to the Security Forum Steering Committee, contact Forum Director John Linford at j.linford@opengroup.org to schedule an introductory meeting with the Forum Chair and Vice-Chair and discuss your participation and engagement.