The Open Group Open FAIR™ Certification Program is aimed at meeting the needs of risk analysts and organizations employing risk analysts. The program is based upon Open Factor Analysis of Information Risk (FAIR), an open and independent information risk analysis methodology.
Open FAIR is gaining significant acceptance among large organizations as a leading risk analysis methodology. The Open Group has published two Open FAIR standards :
These two standards constitute the body of knowledge for The Open Group FAIR Certification Program.
The Open Group has also published additional risk analysis guidance, which may be useful to risk practitioners, and as additional background for those seeking Open FAIR Foundation certification:
Open FAIR certification is available to individuals who want to demonstrate their knowledge and understanding of the body of knowledge for The Open Group FAIR Certification Program.
The Open FAIR Part 1 examination can be taken at a Pearson VUE test center, with an Accredited Training course (for trainers that provide the exam with the course), or at home or in your office.
An Open Badge is available for this certification (for information on The Open Group Open Badges program see here).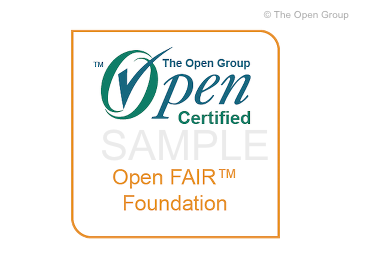 Program Datasheets
The following data sheets are available describing the Open FAIR™ for People Certification program.
Certification for Individuals
Accreditation of Open FAIR Training Courses
See also:
Click here to check if your organization is a license holder.
Inquiries
Please contact The Open Group Open FAIR Certification Authority by email.