Note: This certification credential is based on the TOGAF Standard, Version 9.2.  The Open Group has introduced TOGAF Business Architecture Foundation certification based on the TOGAF Standard, 10th Edition (see here), and there will be a transition pathway for individuals to update from this credential.
The purpose of the TOGAF Business Architecture Level 1 certification credential is to provide validation that individuals have knowledge and understanding of Business Modeling, Business Capabilities, TOGAF Business Scenarios, Information Mapping, and Value Streams and how to apply them in development of a Business Architecture based on the TOGAF® Standard, Version 9.2. The learning objectives for this certification credential focus on knowledge and comprehension. This certification credential leads to the award of a certificate and an Open Badge.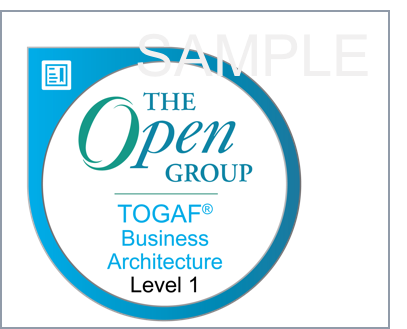 The Value of this Certification Credential
Individuals who earn this certification credential will have demonstrated their understanding of:
The topic of Business Modeling and how it relates to Enterprise Architecture within a TOGAF context
The concept of Business Capabilities and how they can be modeled
Value Streams and value stream mapping
Information Mapping
How to apply the TOGAF Business Scenario method
How a Business Architecture can be developed with the TOGAF Architecture Development Method (ADM)
Target Audience
Individuals who require an understanding of Business Architecture based on the TOGAF Standard, Version 9.2
Professionals who are working in roles associated with developing a Business Architecture such as those responsible for business planning
Architects who want to add a specialization to their existing TOGAF Certification
Trainers wishing to deliver TOGAF Business Architecture Level 1 Accredited Training Courses
Program Datasheet
Information for Individuals
Frequently Asked Questions
Q: What is the relationship between the TOGAF Business Architecture Level 1 credential and TOGAF 9 Certification?
A: This certification is a specialization. It goes into more detail than the TOGAF 9 Certified syllabus. Individuals are able to choose whether they wish to study just for this certification credential or use it as an addition to TOGAF 9 certification.
Q: Can I self-study?
A: Yes, a study guide is available.