A Journey from Start-up to Enduring Enterprise
The Digital Practitioner Body of Knowledge Standard, a standard of The Open Group, also known as the DPBoK Standard, assists individuals and organizations who wish to create and manage product offerings with an increasing digital component, or lead their organization to becoming a Digital-First Enterprise. It provides guidance for the Digital Practitioner, whether based in a traditional "IT" organization, manufacturing unit, sales, customer support, or embedded in a cutting-edge integrated product team.
The DPBoK Standard comprehensively covers emerging digital practices as well as existing best practices integrated into one coherent, self-consistent framework based on scale, for organizations of all sizes and stages of their evolution, and practitioners throughout their career. An entry point no matter who or where you are.
A modern enterprise faces multiple challenges when competing in the digital economy. New technologies (cloud, IoT, machine learning) and new techniques (DPM, reliability engineering, continuous delivery) both demand attention. The Digital Practioner Body of Knowledge addresses both of these aspects. It also takes into account technologies are faster moving, while techniques and practices evolve at a slower pace. Meaning that for organizations to cope with this fast technology evolution pace and succeed in the digital economy, changes need to be pervasive through the whole organization.
Making "Digital-First" a Reality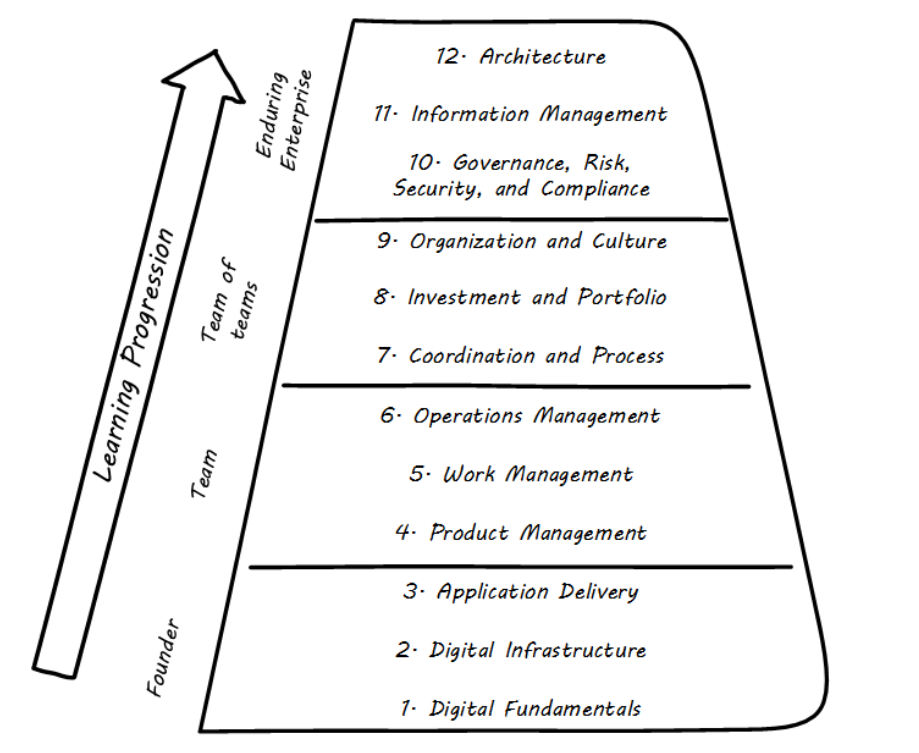 A "digital-first" culture is where the business models, plans, architectures, and implementation strategies are based on a digital organization architecture that inspires and rewards a number ofdesired behaviors, such as servant leadership, strategic value chain thinking, consumer focus, fault tolerance, agility, and more.
It requires a workforce with a sense of psychological safety, digitally savvy enough to execute a "digital-first approach".
As part of this paradigm shift, it is important to have a clear understanding of the existing capabilities, which can be retired, and the new ones that will be needed. In some cases, organizations may need to deal with all these changes while keeping their current legacy platform and supporting applications.
Again, The Digital Practitioner of Body of Knowledge takes this into account and describes strategies to successfully manage this.
The DPBoK™ Community Edition
The Digital Practitioner Body of Knowledge has been developed by members of the Open Group within the Digital Practitioners Work Group and is available to everyone for download via The Open Group Library (see resources below).
However, The Open Group has also made a community edition available for non-members that may wish to contribute their expertise, with the potential to be included in future releases.
For more information and to participate in the Community Edition project, please follow the link here.