Leading the development of open standards for reducing IT risks
The Open Group Security Forum welcomes anyone from highly experienced individuals to newcomers in the field who want to bring fresh ideas into the Forum, collaborate constructively in a collegial, respectful environment, and get things done to make the profession better and advance and improve the supporting body of knowledge.
The Security Forum is one of the longest standing Forums within The Open Group. Over its two-decade history of producing security standards, guides, white papers, and evaluation tools, the Forum Membership has evolved into a group of security and risk generalist practitioners who develop and apply knowledge that is relevant to multiple vertical or industry domains.
The Security Forum currently has two main areas of focus: Security and Risk Management and Zero Trust Architecture. The projects in these Working Groups are below: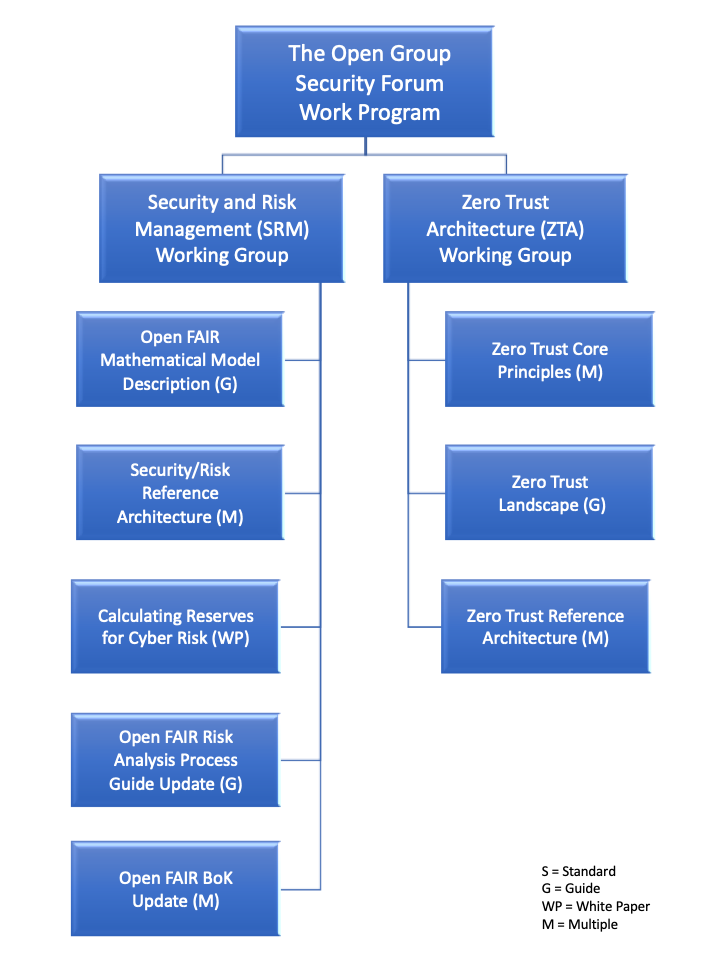 The Open Group Security Forum provides an inclusive, collaborative environment for its diverse Members from both the customer and supply sides of industry, government, and academia, who share a common goal to manage and reduce technology-related risks, secure the technology environment, and raise confidence levels in business technology operations. Members have led projects and developed content around:
A Standard, quantitative, information risk framework and taxonomy with supporting resources to enable business by managing and reducing technology-related risks

A certification program for quantitative risk analysts

The intersection of enterprise architecture, security architecture, and risk

Security assurance for business technology operations

Clear guidelines to secure the technology environment in an era of increased business agility and competitiveness

Zero Trust Security Architectures to enable Digital Transformation

A framework for managing information security and for managing information in the wider context (O-ISM3)
In this vendor-neutral environment, Members from around the world can obtain relevant knowledge, exert influence, grow professionally and network with a world-class community of experts and peers. Members share knowledge and experience to define requirements and lead the development of open standards and best practices in the areas of Security Architecture, including Zero Trust initiatives, and Risk Analysis and Quantification.
The Security Forum often interacts and collaborates with other Forums and Work Groups of The Open Group, including the Architecture Forum, IT4IT™ Forum, ArchiMate® Forum, and the Open Agile Architecture Work Group. Our Members offer security-specific guidance and leadership.
Join us in our mission to advance cost-effective, risk-based security and architecture.
Join us if you are new to the field and want to learn from and interact with industry experts while developing your own professional skillset.
Join us if you are an industry expert and want to leave your mark on the field while helping new practitioners advance their careers.
To learn whether your organization is currently a Member of The Open Group Security Forum, see our list of members.